The release of Duplicate File Detective 6 represents a proud milestone for Key Metric Software by introducing many powerful new capabilities while improving upon existing features.
Certified for Windows 10
Duplicate File Detective 6 is certified as being Windows 10 compatible, and has passed all formal Windows 10 Compatibility tests published by Microsoft. Additionally, Duplicate File Detective 6 continues to provide first-class support for Windows operating systems all the way back to Windows Vista and Windows Server 2008 (and everything in between). No other duplicate file finder software tool matches the broad level of Windows OS support that Duplicate File Detective 6 provides.
Support for High Resolution Displays
Duplicate File Detective 6 now provides support for high resolution displays, keeping the product's user interface crisp and clear even on monitors with very high resolutions.
Additionally, the new release features an all new user interface design with normal, dark, and light themes.
Task Scheduler
Duplicate File Detective now includes powerful task scheduling support, allowing you to schedule the generation of duplicate file reports on a deferred or recurring basis.

MS Excel Export
New Microsoft Excel file format data export support makes it simpler than ever to review, filter, sort, and otherwise manipulate data outside of Duplicate File Detective.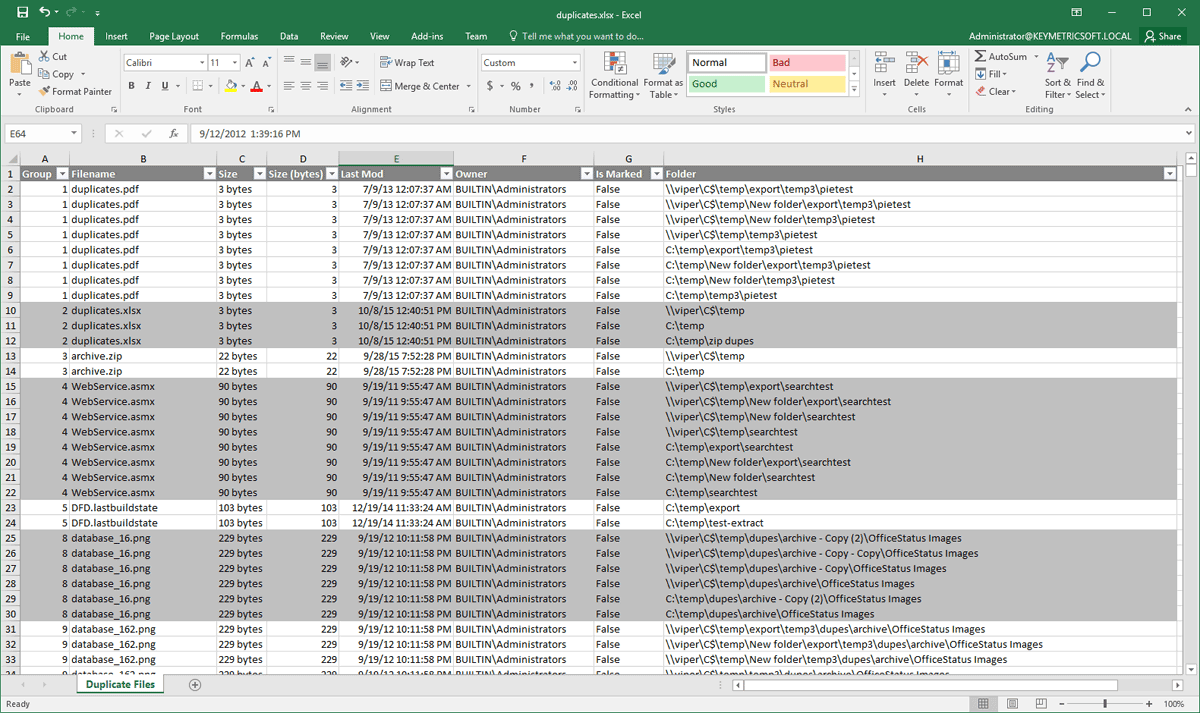 Duplicate File Owner Reports
Duplicate File Detective has been enhanced to show how duplicate file space is allocated by user. The detail view provides a listing of all duplicate file owners, along with a count of duplicates owned and the disk space they consume.

A visualization of the top duplicate file owners is also provided.

SmartMark Improvements
Our SmartMark duplicate file selection assistant technology has been enhanced in a number of ways:
The SmartMark File Paths dialog now has an Apply button so its results can be applied immediately and incrementally.
Added SmartMark commands "UnMark First in Each Group" and "UnMark Last in Each Group".
SmartMark menus have been re-organized to accommodate functional enhancements and improve discoverability.
Added SmartMark options for marking files older (by modified date) than one hour, day, week, month, or year.
Added SmartMark options for marking files larger than 1 KB, 100 KB, 1 MB, 10 MB, 100 MB, 500 MB, or 1 GB.
Email Support
It is now possible to email the results of duplicate file search operations from the command line, or via the new integrated task scheduler. Full support for SMTP integration includes authentication and SSL/TLS support for maximum interoperability.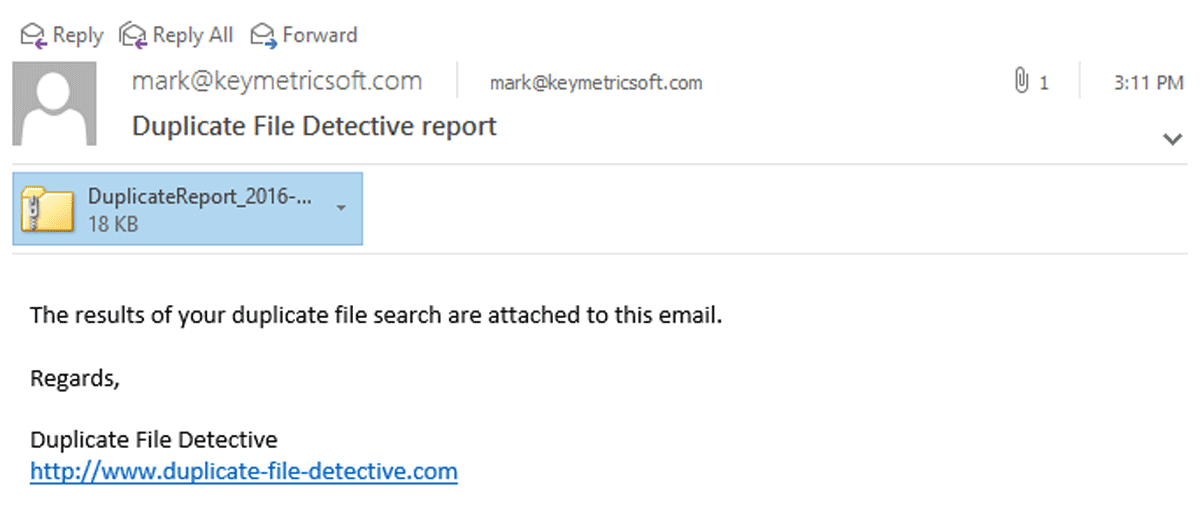 Master Search Paths
One or more duplicate search paths can now be designated as "masters", thus requiring that at least one file from that path be present in every reported duplicate file group.
Overhauled Command Line Support
Command line operation support has been dramatically enhanced. It is now possible to use the command line to manage search and exclusion paths, load and save program settings, override project search filters, set comparison options, and more.
Additional Improvements
Added the ability to save and re-load global program settings to/from a file.
Zip file content hashing can now use a user-supplied password to access encrypted files.
Added logging mechanism to the Duplicate File Manager dialog, allowing users to log delete, move, and zip operations (including errors).
Search paths are now listed in PDF export page headers.
Improved default column alignment for detail reports.
SmartMark no longer resets existing markings when it executes commands.
Added "Ensure One Unmarked File per Duplicate Group" option to SmartMark menu (applies to all functions accessed through the drop-down menu).
When exporting data to XML, date/time values are now represented in standards-compliant ISO 8601 format (UTC).
Improved allocated file size calculations now considers compressed and sparse files.
Added option to apply NTFS compression to qualified export file types (HTML, CSV & XML).
A "Run as Admin" command has been added to the main window ribbon bar button, allowing process elevation on Vista and later.
Media preview window now shows large (256x256 scaled) app icons or thumbnails when available.
The file type detail report view now honors the user's current detail view configuration (see View tab in ribbon bar).
Added a terabyte (TB) file size size display option to the File Sizes selector of the main window View tab.
Duplicate search progress window has been simplified so that it only shows a single progress bar.
File type detail report now provides column customization features via right-click of header.
Double-clicking an entry in the file type detail view now filters the main duplicate report by that file type.
Date-based search filters are now adjusted automatically so that they encompass full days.
Added the ability to display properties for multiple selected files in the duplicate search results report.
Improved validation logic to ensure that user selects at least one option from the Comparison Options dialog.
Protected file type information is now stored in the Windows registry so it can be saved/restored via Program Settings.
File properties docking window now includes a property search box.
Users can now specify the location of the folder used to store duplicate search temp files (see advanced settings).
Added new music tag comparison options relating to the handling of empty tag values.
Improved project validation at project runtime, and improved path validation at the point of configuration.
Improved file types detail report CSV export to include file and duplicate space values in bytes.
File type detail report printouts now include date/time, report name, and pagination information.
File types "by size" and "by count" graphs have been consolidated into a single docking panel.
Search filtering performance improvements.